The ADA Welcome's Smokea to the Dart Family!
The ADA Welcome's Smokea to the Dart Family!
By Karl Remick, ADA VP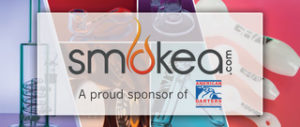 2017 seems to be the year for growth with the American Darters Association.  We have had 7 new ADA Rep's within 7 months! And with new ADA Area's comes new members, locations and partners.  Though this particular partner in this article isn't from a new ADA Area mentioned before.  In fact, he plays right in the home office's backyard!
Andrew Grafeman, President and Founder of Smokea started building the brand back in September of 2016.  His official online launch date was 4/20/2017.   You can check out Smokea and all their great products here: https://smokea.com/  Smokea is 100% online ordering.
"I started Smokea because I've been in the industry since I was in high school with clerking jobs, management positions and as a buyer for Retro Active smoke shop. I wanted to start Smokea to offer customers worldwide the same great products we offer at Retro Active with an amazing online shopping experience", comments Andrew.
Andrew became a member in June of 2016 but has been throwing darts since college.  His first league experience was with our American Dart League.  "I gladly joined and haven't stopped throwing since", he adds, "I've always loved throwing darts just as something to do when at a bar and one day I was throwing with my good friend, John, who mentioned he was looking for a partner on his ADA league".
All members coming to ADA Nationals will get a chance to see Andrew's products first hand.  His booth will be in the Foyer area at the Sheraton Westport Chalet location July 26th – July 30th.  Whether it be onsite or online Smokea offers all ADA members a 15% discount using coupon code "ADADARTERS".
We are excited to have Andrew and Smokea as a partner for the 2017/2018 year and beyond!  When I asked him his most memorable dart experience was he mentioned, "I haven't been playing long enough to have many memorable experiences but I would say winning my first blind draw tournament has been the highlight so far"!  Well with Andrew coming to ADA Nationals as a vendor and member, we look to see his success both on and off the board!
Welcome to the ADA Family Andrew, now as an official partner!  See you at the end of the month!
For more information on Smokea, contact them here: