ADA/American Dart League Team represents Missouri's Governors Cup
ADA/American Dart League Team represents Missouri's Governors Cup
By Karl Remick, ADA VP
Every August the Central Missouri Dart Association (CMDA) hosts the Missouri Governors Cup at the Lake of the Ozarks.  This three day event is a Steel Tip Challenge based on "Team" Points accumulated throughout the weekend. Events include Team, Men's/Women's Doubles, Mixed Triples and Men's/Women's Singles to finish out the weekend.  The non-eligible events are the satellite events and blind draws at night.
After a couple talks with Co-Captains Carla Wessel and Gary Boyd, we decided to form a team for this year!  ADA Area's 630, 631 and 633 made up the team: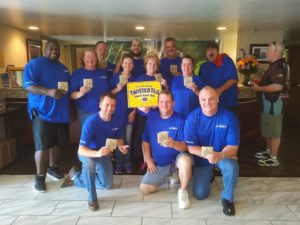 Karl Remick – Captain
Carla Wessel – Co- Captain
Gary Boyd – Co- Captain
Kim Tun
Angie Eckert
Deborah Blumenberg
Eric Robinson
Brian Herbert
Rob King
Rollie Leonberger
Craig Luter
Rick Groceman
For putting together the team at the last minute, Team ADA represented well!  We made it through some rounds collectively as a team and had a blast doing it!  At the end of the event Team ADA finished 9th out of the 16 teams in attendance.  It was a pleasure seeing all the ADA Members, friends and past players in attendance as well.
I would like to thank our partners Westover Graphics, Smokea and Angry Orchard/Twisted Tea for supporting the team! We look forward to partnering with you next year!  A special thanks to all the ADA Members on the team for the great weekend!  A job well done to Joe Jenkins and his amazing staff for a well run event!  Keep up the good work!
Watch for some posts and announcements coming for next year's Governors Cup!