ADA's First Professional Youth Dart Member!
ADA's First Professional Youth Dart Member!
By Karl Remick, ADA VP
My father and past ADA President, Glenn Remick, created our Professional Darter Certification Program (PDCP) when he was chatting with ESPN TV Network in 2004.  ESPN was the one to tip Glenn off to the fact that we needed Certified Professionals in our sport of darts in order to take darts to the next level.  Since then, we have had over thousands of male and female ADA Professionals receive their gold card, certificate, and compete in professional events across the country.  Fast forward to 2017– Our PDCP Program has continued to grow, not only in averages and numbers, but also in an unexpected demographic: our ADA Youth Member population.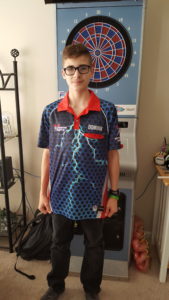 Dominik Pundt is no stranger to the dart circuit, even though he is only 16 years old!  The son of Mark & Debbie Pundt, Dominik mentioned he threw his first dart when he was just three years old.  This is no surprise considering both of his parents have played in leagues, tournaments, and events themselves.   Dominik joined the ADA last year in the first quarter. 18 months later, he is now the first ADA Youth Member on the ADA PDCP List!  It is an incredible honor to watch him compete on an elite youth level.
As I mentioned before, Dominik is no darts novice. His greatest accomplishment was winning the 2016 ADO National Youth Championship!  But doesn't want to stop there, "I want to make it to the top and be the best Youth Dart Player in the USA", comments Dominik.  Like any other sport, Dominik practices darts throughout the week both soft and steel tip.
This past week's results from Chester's Spring Fling in Virginia are as follows:
T4 Cricket singles (Saturday)
T4 Blind Draw (Sunday)
1st Men's Doubles (Sunday)
T4 01 Singles.
Watch Dominik at his next event on May 19th – 21st at the Hopewell Moose, also in Virginia.  His current sponsors are Fit Flight, Shot! and the ADA's partner Extreme Darts LLC!
Dominik's current stats:
PPDA – 28 Soft Tip Open
MPR – 3.3 Soft Tip
We wish Dominik well on his tournament trail and look forward to having him continue as an ADA Professional for the rest of the 2017 year!