Darts Across the Sea 2017
Darts Across the Sea 2017
The Volunteer Pub, Northampton U.K.
By Sarah Coyne, ADA Rep
This is an annual event that began in 1982 with the Western Massachusetts Dart Association created by Glenn & Gloria Remick, in Northampton Massachusetts.
For years, Team USA and Team England rotated countries to compete against each other. Then, when traveling wasn't conducive, the event progressed to exchanging scores over the phone. There's multiple pictures from Horace Hanley with each Representative on a rotary phone relaying scores to their opponents.
Now, this event has progressed with technology…For those that could not have the pleasure of attending the event in person could view it live streaming on Facebook & YouTube. Scores were exchanged with the program DartConnect. Every year I'm impressed with the set up and being able to see steel tip opponents live (something I can imagine soft tip players will take advantage of if they don't already with live play on various electronic boards).
With all the ADA events that take place throughout the calendar year, I've always enjoyed and looked forward to the Darts Across the Sea event. I love the tradition and history of it. Call me sentimental, but attending each year is a way for me to honor my dad and remember his sense of creativity and his love of darts bringing people together. Throughout the evening, I was introduced to people that participated in previous Darts Across the Sea events.
Yes, one can argue that there are many sports that have a sense of togetherness but this annual event unites people regardless of their location or time of day. Jeff Billingham hosted the event for Team England while Karl and Gloria Remick represented Team USA in New Cumberland, PA at Boomerang Bar & Grill.
The event is scheduled over Veterans Day weekend so I always get an extra day to travel to the rotating location. The concept of bringing together two countries through darts while honoring the Veterans was established with Karl & Jeff.  This year, I was so lucky and only an hour flight from the event! Except my arrival destination wasn't where my mom, brother and the rest of the American Darters Association members who represented Team USA. Now that I live in Germany, it was more convenient to fly to the United Kingdom and see how things operate on the other side of the pond. The Volunteer Pub and members of Team England did not disappoint! 2017 Team England consisted of: Jon, Mick, Gerry, Jeff, Mark, Ron, Lorraine, Karen, Andy, Lee, & Steve.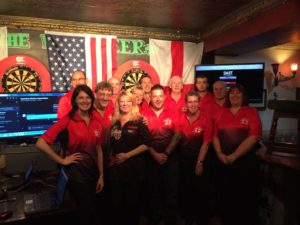 For Team ADA, Captained by ADA Rep Keith Shanabrough, the American Darters Association members who represented Team USA were:
Kyle Courtright (PA)
Heather Shanabrough (PA)
Mike Dudrich (PA)
Broc Lawrence (PA)
Dillon Hartlaub (PA)
Cherly Weber (DE)
Ryan Moore (DE)
Faron Daniels (DE)
Jamie Sims (MD)
Scott Sampson (MD)
Kurt Preston (MD)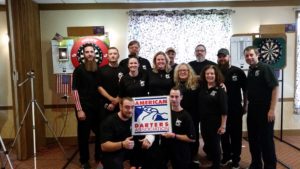 16 matches played over the course of 10+ hours rotating between 12 players on each team. Each leg, the competitor aimed to win their two of the three games.
Team USA gains bragging rights for the 2017 event. Final score: 22-19
Congrats Team ADA USA on their win!
The evening could not have ran smoothly without the owner and staff of the Volunteer. Thank you for the prompt service, tasty English sandwiches and endless beers and spirits until the very last dart!!! With the matches exceeding past bar-close, they had no problem locking the front door and keeping the drinks flowing for us. Huge shoutout to Team England cheerleaders: Casey & Jason. Not only did they encouraged the throwers but they also took turns keeping score throughout the evening. Last but not least, thanks to Karen and Charlie for filling in as substitutes when we didn't blame Gerry and crew for taking the last taxi of the evening back to their village 45 minutes away.
Thank you to the ADA Rep's over in the states who held qualifiers and supported the event:
Craig Williams, Delaware
Wayne Loeschke, Maryland
Keith & Heather Shanabrough, Pennsylvania
I look forward to continuing this tradition with both my dart families! Until next year and again, congrats Team USA on their win!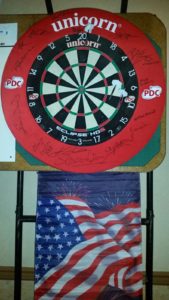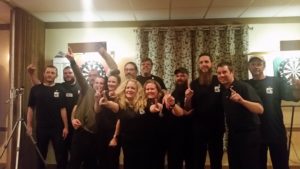 1 Reply to "Darts Across the Sea 2017"
11/22/2017 (6:34 PM)

Congrats way to go ! #Promotedarts
---