ADA All Star Event – Soft & Steel Tip
07/30/2017 @ 2:30 PM

-

5:00 PM

$500.00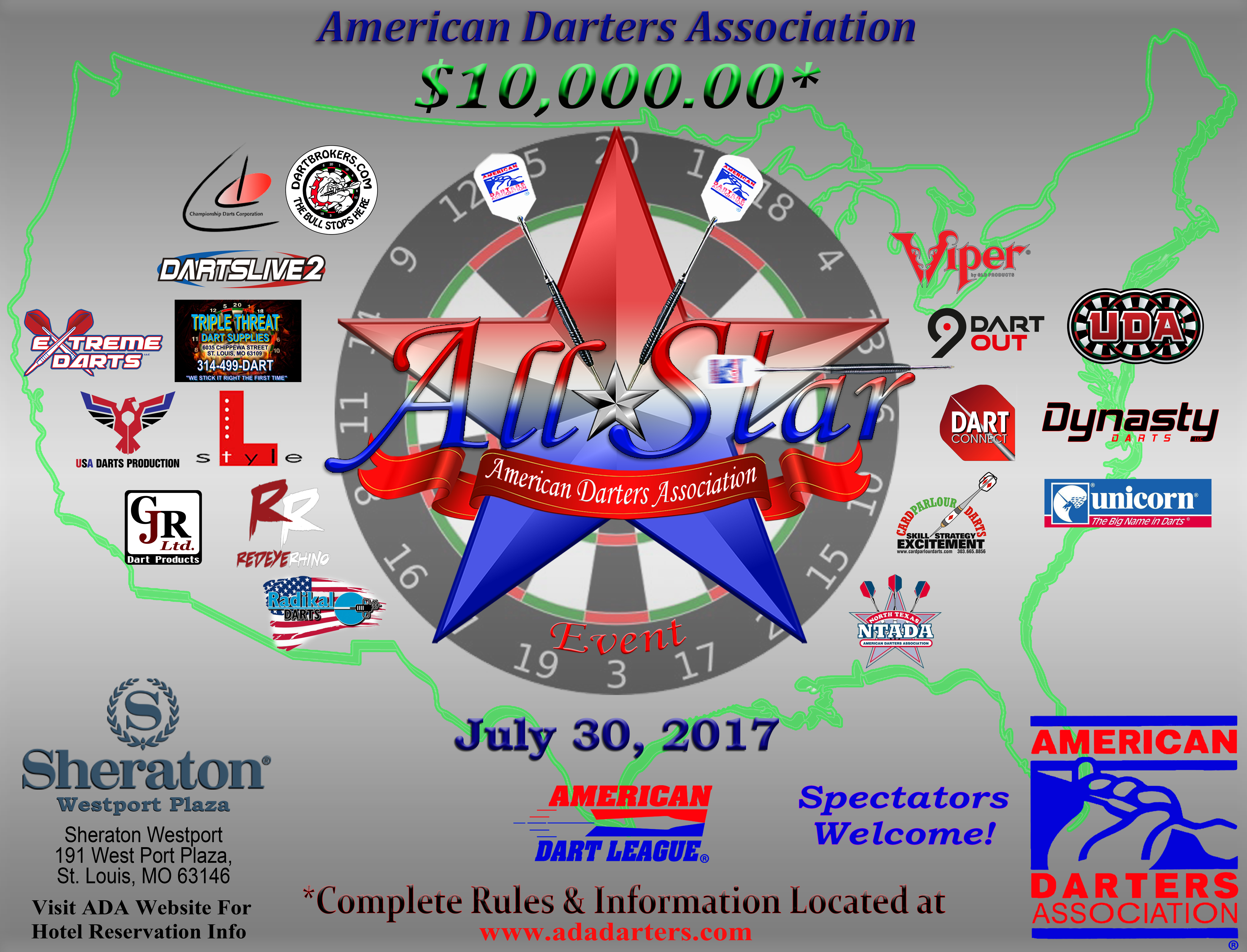 The American Darters Association, Inc. (ADA) is celebrating its 26th year in darts and we're inviting YOU to join us in this $10,000*All Star Event!
This All Star Team invitation is going out to all Dart Clubs, Companies, ADA Areas, Manufacturers and Associations to determine who the best of the best is!
$10,000*
Soft Tip / Steel Tip
Sunday, July 30th Time 2:30pm
Sheraton Westport Plaza, St. Louis

Form your team now!  Guidelines listed below.  Rules and team registration form link listed below.  Rules are strictly enforced and governed by the ADA Office and Championship Staff.
Build your team of 6 total members: to include at least 2 females.  Every team must have a team captain. All rostered members must participate.
Teams competing must represent a Darts Company, Association, Club, League, Manufacturers, Operator or Sponsored company. All teams must be approved by the ADA.
Members may only enter on one team/one dart type (Steel or Soft)
Teams must pre-register by July 1st 2017. Pre- Registration fee is $500.00 per team.
*$5,000 based on 10 teams in each dart type.  Payout is 100% if less than 10 teams in each category.
Format consists of Doubles Cricket and Singles 501 OI/DO Split Bull; Single Elimination.  Race to 7 wins, advances to the next round.  Official score sheet and set order here: Team League Scoresheet

Official Team Line Up and members permanent positions on sheets 1 & 2 (sheet if 2 is necessary):

1 Male
2 Male
3 Female
4 Female
5 Male
6 Male

*Note: if a team turns in a roster with more than 2 women, spots 3 & 4 are still dedicated to at least two of those females.

Official Dress Code: Every member on each team must have matching Team Polo's/Official Shirts with Black Dress Slacks and Dress Shoes/Dress Sneakers.  No exceptions.
All members must be present upon team check in to verify dress attire and for official team photos.
All participating players must become a member of the American Darters Association ($20.00).
Once you submit and pay for your team online, entry fees are non-refundable.  No onsite Registration sign ups
Team Captain must pick up prize money winnings
Social Security Number – Current tax legislation requires the American Darters Association to report any prize money exceeding $599.00. If you or your team members earn $600.00 or more in prize money, an IRS form 1099 Misc. will be forwarded for 2017 tax return.
Release of ADA and the National Championship Sponsors – We, being of lawful age and, as inducement for and in consideration of (1) the agreement by American Darters Association, Inc., ("ADA") that I may take part in the ADA All Star Event (the "Event") and (2) sponsorship of the Event, hereby covenant and agree that ADA and all other sponsors and their respective affiliates, directors, officers, employees and agents (collectively "Releasee") shall not be liable for any damages arising from personal injuries, and/or damage to property that I may sustain in any way which result from or arise out of my preparation for any participation in the Event.I hereby fully and forever release and discharge and covenant not to sue Releasee from any and all claims, demands, damages, rights of action or causes of action, present or future, whether the same be known or unknown, anticipated or unanticipated, resulting from or arising out of my preparation for or participation in the Event.I acknowledge and agree that preparation for and participation in the Event are dangerous and involve the risk of serious personal injury and/or damage to property, and I hereby assume full responsibility for and risk of such personal injury and damage to property. I warrant that I am in good health and have no physical condition that would prevent me from participating in the Event. I further agree for myself, my successors, heirs, assigns, executors and administrators to indemnify and hold Releasee harmless from and against all claims and suits for personal injuries, including death, and damage to property, real or personal, caused by my act or omission and arising out of my involvement in the Event, and from all judgments and costs recovered in said claims and suits and from all expressed incurred in defending said claims or suits.
American Darters Association is the Final Authority – The ADA has the absolute and final authority to make all rulings affecting participation in the ADA All Star Event, including member ability and disqualification.
NOTE: the ADA All Star Event does NOT qualify you for the ADA National Championship.  For official eligibility rules and requirements visit: http://www.adadarters.com/2017-nc-eligibility-rules-2/
Our aim is to have all dart representatives, both soft and steel tip, get on board under one roof, to promote our worldwide sport.  If you would like to represent your dart club, league , company, manufacture or association and don't see the logo on the flyer contact the ADA Home Office for more information: leagues@adadarters.com
Let's also find out who the best team in 2017 is!
All Star Team Registration Form: All Star Team Registration Form 
Online Registration Link: https://adadarts.readyhosting.com/secure/regional/default.asp 
**NOTE: this is only the payment link.  You will still have to fill out and turn in the All Star Registration Form above this link. On the payment form the last question is: "Do you play league darts?" Choose YES and then in the next box please list which team/area/company you are representing.
Payout Soft Tip:
1st place – $2400.00
2nd place – $1400.00
3rd/4th place – $600.00/$600.00
Payout is 100% if less than 10 teams in each category.
Payout Steel Tip:
1st place – $2400.00
2nd place – $1400.00
3rd/4th place – $600.00/$600.00
Payout is 100% if less than 10 teams in each category.
Questions or comments contact the ADA Home Office: 636.614.4380 or leagues@adadarters.com