Blind Draw/Pro Bounty Hunt – ADA Area 705
09/23/2017 @ 6:30 PM

-

11:30 PM

$8 - $10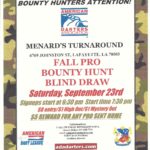 Time for another Pro Bounty Blind Draw in the 705!
What does that mean? Fun and darts of course! Knock an ADA Pro out of the Blind Draw completely and win $$$ on the spot!
-Sign up at 6:30pm, Darts fly at 7:30m
-$5 "bounty" on each Pro in the draw.
-$8 to enter. plus $1 mystery out and $1 high out
-cold drinks and a great time, so come on out!
See the flyer for additional details and contact information.
Thanks for playing in the ADA!