Pro Bounty Blind Draw Round Up – ADA Area 705
April 22 @ 6:30 PM

-

11:30 PM

$8 - $10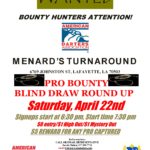 Are you a bounty hunter when it comes to darts? If you like the sound of taking on the 705 ADL Pros, then you are!
Come to Menard's Turnaround on Saturday the 22nd to "hunt down" the local Pros. If you knock one out (or "capture" them) you'll get $5 on the spot. It's just $8 to enter, but you can also add a $1 for the mystery out and/or a $1 for the high out!
Don't miss the fun: Sign up at 6:30pm. Darts fly at 7:30pm!