Steel Tip Orientation Blind Draw – ADA Area 633
02/21/2017 @ 7:00 PM

-

11:55 PM

$10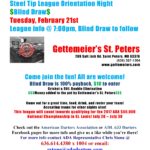 Gettemeier's St. Peters will be hosting an Orientation Blind Draw on Tuesday, 2/21/17 at 7pm to kick off the Tuesday night Steel Tip League starting the week after on 2/28/17.
This league will count toward qualifying for the 2017 ADA $55,000 National Championship in St. Louis! July 26 – July 30.
The format will be an In-House, Open Doubles, Steel-Tip League. So bring your partner and roster your team! Don't have a partner? We'll find you one!
Not interested in signing up for league? That's okay, you may still play in the Blind Draw on 2/21 without signing up for league or becoming an ADA Member
Blind Draw is $10 to enter, all entries go in the pot and guaranteed $$$$ added by Gettemeier's St. Peters.
Need more info? Contact ADA Rep, Chris Stone, at 636.614.4380 x 1004 or cstone@adadarters.com
Thanks for playing in the ADA!