Welcome New ADA Rep Kyle Smith
Welcome New ADA Rep Kyle Smith
By Karl Remick, ADA VP
The American Darters Association (ADA) would like to welcome our newest Representative, Kyle Smith, to our dart family!  Kyle is representing the greater Laramie County, Wyoming area.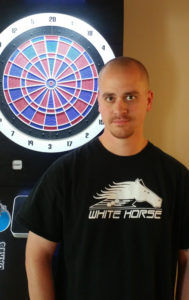 Kyle can thank his friends back in 2007 for getting him involved in our sport of darts.  Since then he has been hooked both playing and managing leagues and events for the dart community in his neck of the woods.
After getting some time under his belt in league, he now attends tournaments such as the AMOW Wyoming State Dart Tournament and the NDA Colorado State Dart Tournament.  "If I play my cards right I am looking at attending the ADA National Championship in St. Louis this year," he adds.  Hopefully he can make it!
Before becoming an ADA Representative, Kyle has been an Amusement Operator since the Summer of 2014.  He has been operating Arachnid Machines but just recently placed an order of our partner's machines: Radikal USA.  When asked what drew him to the American Darters Association, he answered, "I want to be able to provide the area players with the ability to participate in online nationwide leagues, and also giving those players, with the desire to do so, the chance to develop into Professional Darters."  Kyle is looking at starting his first ADA/American Dart League division this Summer.
When he's not operating or managing leagues, Kyle enjoys metal concerts, playing pinball, camping, hunting big game and spending his time with family and friends.  "We look forward to Kyle and all his new members joining our ADA Family!" says CEO Gloria Remick.
If you are in the greater Laramie County and want to join a league under Kyle please shoot him an email: ksmith@adadarters.com
Hope to see you in July Kyle and thanks for joining the ADA Family!