Welcome New ADA Rep Shawn Empson
Welcome New ADA Rep Shawn Empson
By Karl Remick, ADA VP
The American Darters Association (ADA) would like to welcome our newest Representative, Shawn Empson, to our dart family!  Shawn is representing the greater Washentaw County, Michigan area.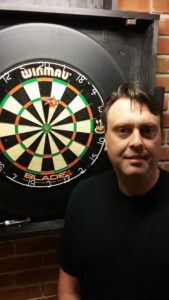 Shawn is our third new Representative of the year! He has been involved with the sport of darts for 20 years, with a 10 year break in between.  He started off throwing in his college days.  Being a college student, he was attracted to the sport for two reasons: one, it was at a bar. Two, it was a huge steel tip area, so it was free!  Anything free for a college student is always a win/win!
Shawn's 10 year break from the game was because of his son being born.  Also named Shawn, now 12 years of age also is learning the game under his father's guidance.  Before the teaching even began, Shawn traveled to a handful of tournaments, including the Michigan Dart Organization's State Tournament, Chicago's Windy City and the annual North American Open.
He remembers his finest moment from the Windy City Open in 1997: "Semi finals of the Windy City open doubles Chicago style event. 7 dart 301 DIDO. We actually won the event, but the 3rd game sticks out the most, as it was 1 -1 going into the 3rd leg of 301 DIDO. We won the cork, and my my Partner missed his first dart. Second Dart Double 16, 3rd dart Treble 20. for a 92 in. Opponents got in with … something.  It's my shot I Hit trip 20 trip 20 trip 19 to leave 32. My partner hit it on his first dart. It was not my 177, but the 7 darter that I will ALWAYS remember!"
When Shawn isn't throwing darts with his son he enjoys working on/playing on Computers, playing Dungeons & Dragons, Hearthstone and listening to Steam Punk.
For more information on Shawn's upcoming leagues in the area please contact him:
Shawn Empson
ADA Representative
(734) 686-2166
sempson@adadarters.com