Welcome New ADA Rep Tyler Reese
Welcome New ADA Rep Tyler Reese
By Karl Remick, ADA VP
The American Darters Association (ADA) would like to welcome our newest Representative, Tyler Reese, to our dart family!  Tyler is representing the greater Kirksville/ Adair County, Missouri area.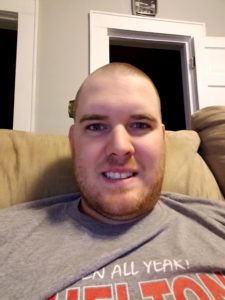 Tyler is one of our ADA Members that played locally here close to the home office in Missouri.  "I got interested in darts not too long actually, about two years ago or so. A few friends knew some other people who were involved in the ADA and were talking about starting up a league and thought I'd join just to have some fun".
From there Tyler was hooked and even got his wife Whitney involved as well.  "After doing some research it seemed like the American Darters Association/American Dart League's members had the most fun".  I had the pleasure of meeting The Reese's a couple months before they moved up north to Kirksville.
Tyler's best accomplishment in our sport of darts would be winning MVP in only the second ADL session he had played in. "For only playing in one session before and learning the game, then to come back the next and become MVP was pretty awesome"!
Now Tyler is learning the business side of the sport getting his new area going.  In between reviewing the ADA Rule Book and still maintaining his dart game he enjoys hunting, St. Louis Blues hockey, Atlanta Falcons football, and spending time with the family!
If you are in the greater Adair County area and would like more information on the leagues starting contact Tyler here: treese@adadarters.com
Good luck Tyler and look forward to working with you in 2017/2018!