Welcome New ADA Rep's Corrie & Ray Manning
The American Darters Association (ADA) would like to welcome our newest Representatives, Corrie & Ray Manning, to our growing dart family!  The Manning's are representing the greater Oak Grove/ Christian County, Kentucky area.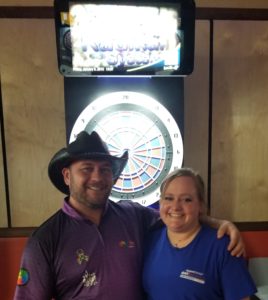 Ray has been working under ADA Rep Teri McBride on the adjacent state line in Clarksville TN area as her sales rep for the past year or so.  We are thrilled that he will now be doing both sides of the state line helping new ADA Rep and wife Corrie Manning out with her new business venture!  But before we get into their new leagues and information, first a little bit about their history.
Ray got interested in darts during his military career while stationed in Seoul Korea, in 2000. He started playing with the guys in the REC Center, and progressed into the local bars shooting steel tip.  "After that it was just to pass the time when we went out from the base", he commented. I retired from the Army in February 2013. Our local bar here in Clarksville TN, 'Scooters' advertised for a weekly Thursday night blind draw tournament.  "Figured I'd stop in and have some fun, which has now progressed to an ADA/ADL 370 location!"
Corrie grew up with darts in hand from her parents, ADA Members Wayne & Kathy Leal from Ottawa, IL! This first span started about 10 year ago; she threw for a while with them but took a break in between raising a family and her work schedule.  But didn't take too much convincing when Ray asked her to start playing again.  She started back up last year August.
Ray joined the ADA/ADL first and has shot in three sessions of leagues now.  Soon after Corrie followed suit.
"I (Ray) found out about the ADA/ADL when it was moved to Scooters from another facility in Clarksville, I saw the advertising and talked to few players who got me to join", he added, "I was brought on board by Karl to do sales and promotions for the ADA/ADL in  2017, for ADA Area 370, under Teri McBride".
From my ADL sales and promotions training I landed CJ's Bar in Oak Grove KY and have brought in 10 Soft Tip Machines and together we run local Saturday Night Blind Draws.  Ray then saw the potential of the area growing and asked Corrie to run ADA Area 422 as the Representative.  She agreed and their first two leagues as Rep starts this week! "Most of our Saturday Night Players are ADA/ADL members, it was brought up to start ADA area 422 out of CJ'S  and my wife and I accepted the challenge to make CJ'S the best of the best for ADA/ADL", comments Ray.
Ray's best dart achievement would be a "Ravens Eye" which is 3 darts in the dead center double bull!  Corrie has followed up with her first Ton80 just recently, which is 3 darts in the Triple 20 in a game of '01!
When not throwing darts or promoting ADA/ADL Darts, the couple spends time with their two boys at home or one works as an ASE Master Certified autobody tech, and the other a Dental Assistant.
When I asked Corrie what she looks forward most about becoming an ADA Rep she said, "Building leagues and meeting new people, while getting them more interested in our sport of darts!"  Well said Corrie!
If your are in the Christian County KY area, please contact one of the Mannings below.  We look forward to growing their ADA Area and working with them here in the future!  #adafamily
Corrie Manning, ADA Rep: cmanning@adadarters.com
Ray Manning, ADL Sales Rep: rmanning@adadarters.com